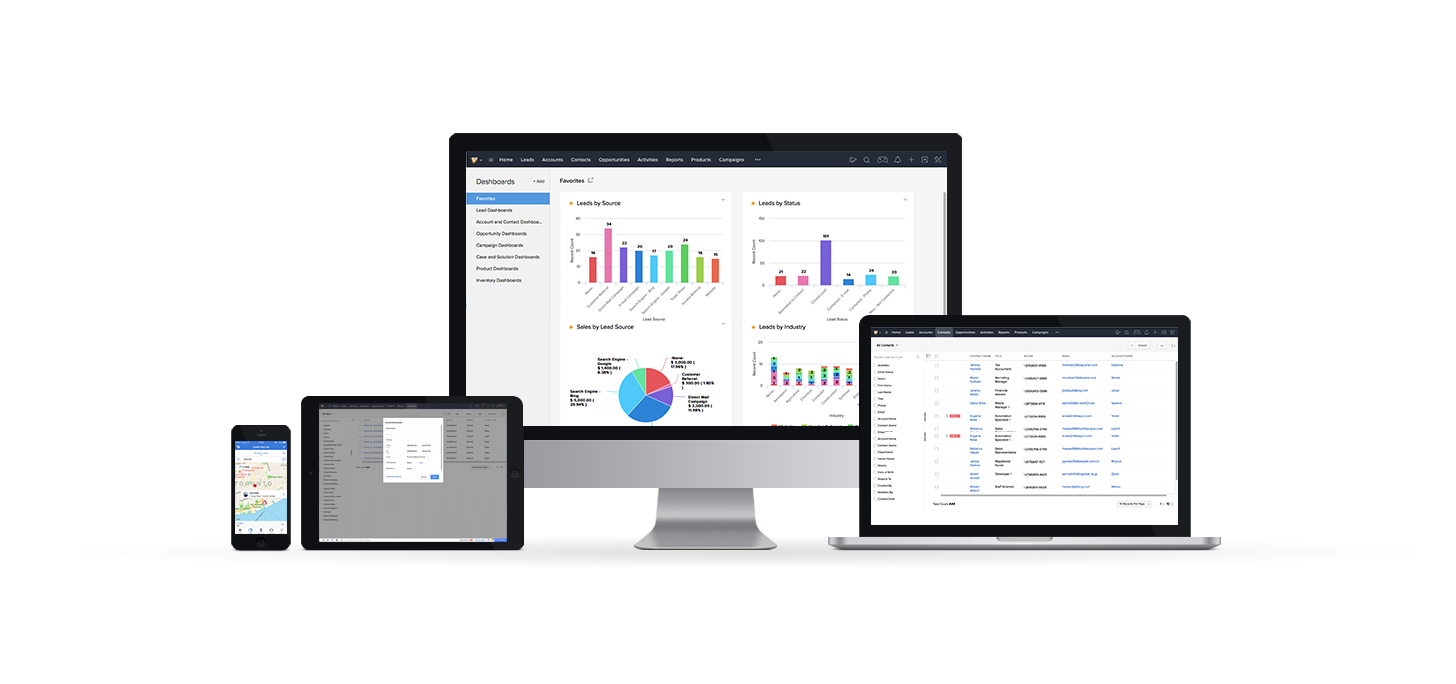 Brainy CRM is the smart solution to your marketing, sales, customer support and inventory management needs. It's an all in one, easy to use automation system that streamlines operations and delivers improved productivity while minimizing costs for your business. Brainy CRM has been developed as an enhanced version of the powerful Zoho CRM system.
Break sales records without breaking a sweat with Brainy CRM's sales automation features that enable users to spend more time selling and less time on administrative tasks. From the qualifying stages and all the way to the closing of a sale, Brainy CRM empowers your sales force with relevant and up to date information on leads and ensures that no selling opportunities are missed. New leads can be easily added to the system and can be managed step by step until they are ready to make a purchase. The system keeps track of each lead and its respective position in the sales pipeline as well as its source; which provides valuable insight for decision makers. Marketing campaigns can be created and deployed with minimum effort and maximum impact; while the reporting tools available provide the analytics required to tweak and improve upon future campaigns. With Brainy CRM, managing leads and closing sales has never been easier. The system is abundant in features that will allow your sales team to focus on making connections, building relationships, and closing deals, while Brainy CRM does the rest:
New leads are automatically contacted by email (with automated notifications whenever a new lead is added to the system)
For clients already in your system, new leads are automatically tagged as existing business.
Lead accountability is ensured, as each user has a separate account for which they are responsible.
The number of call attempts for each particular lead is tracked automatically.
Stale leads are easier to manage and follow up with thanks to automated reminders.
Qualifying and filtering leads can be done using a wide range of criteria; always know who the decision makers are.
Automatic and manual tasks that allow you to never lose track of upcoming actions.
Brainy CRM has been developed to fit the needs of businesses regardless of size or scope. Whether you sell directly to clients or other businesses, Brainy CRM's platform is flexible enough to support either or both sales approaches and provides users with a variety of marketing automation and productivity features. B2C as well as B2B users can improve upon their operations with features such as:
Tracking of Payment Details: automatic notifications for payments that are due and past due.
Storage of products and services directly onto the Zoho platform.
Generate customized Quotes and Invoices.
Tracking and reporting of revenue on a client by client basis; available throughout the lifecycle.
Tracking and storage of all email client communication in the system.
Reliable and quick insight into your business can mean the difference between failure and success. That's why Brainy CRM is packed with reporting and analytic tools that empower users to make quicker and more informed business decisions. Report building is easy and intuitive with a variety of criteria available. Custom reports can be generated in a matter of minutes. Robust security features have been built into Brainy CRM; a system centric approach ensures that accessibility and permissions are not dependent on the end users and new staff members inherit all permissions based on their roles and profiles. Accessibility can also be limited in order to prevent loss or breach of data.
30-day Free Trial. No credit card required.
BASIC
$35 Per user/month
$500 One time set-up fee
Basic Features
Campaign Tracking
Lead and Account Management
Dashboards and Reporting
FULL
$45 Per user/month
$1000 One time set-up fee
Includes everything in the Basic Edition, plus:
Inventory Management
Quotation, Invoicing
Customer Support
Built-in Automation
ENHANCED
$50 Per user/month
$1500 One time set-up fee
Includes everything in the Full Edition, plus:
Telephony System Integration
Complete Customer Management
Rich Reporting